Bye bye Zaha, hello fried egg! New designs unveiled for Tokyo Olympic stadium
Zaha Hadids Tokyo 2020 stadium was proclaimed a national joke then scrapped. Now, its proposed replacements have been disclosed and they look like an egg and a stack of saucers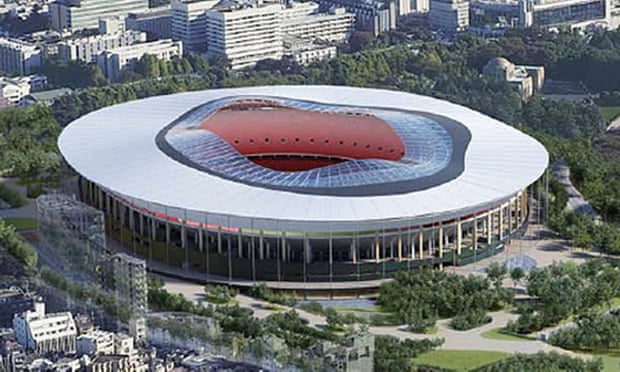 It was compared to everything from a bike helmet to a potty, and allowed to spiraling to nearly doubled its budget, before being unceremoniously scrapped and declared their own nationals embarrassment. Zaha Hadids futuristic design for Tokyos 2020 Olympic stadium would have swaggered through the historic Meiji Park like a glossy white stormtrooper, violating local build codes and leaving the city with a costly white elephant. But are the alternative proposals, eventually unveiled this week, any better?
After Hadids heady vision, the two new designs might seem a little bit bargain-basement. One looks like an undercooked fried egg a wobbly white roof with a gelatinous, albumeny middle. The other looks like a heap of salad plates cleared away before anyone had finished, with bits of lettuce poking out from between the stack of saucers.
But both are significantly slimmer and cheaper than Hadids design around 153 bn yen( APS8 35 m ), as opposed to 252 bn yen( APS1. 3bn) and they appear to be models of a lighter-weight, low-key approach that would fit better with the parkland setting. Anonymously released as Design A and Design B, but believed to be the work of celebrated Japanese architects Kengo Kuma and Toyo Ito, both are titled Stadium in a Forest and build prominent utilize of wooden construction, in contrast to Hadids hefty steel arches.

---