My family fell victim to a warming world. Now we need to build for this new reality | Vicki Arroyo
Louisianas sinking Isle de Jean Charles shows the urgent need for radical measures to combat climate change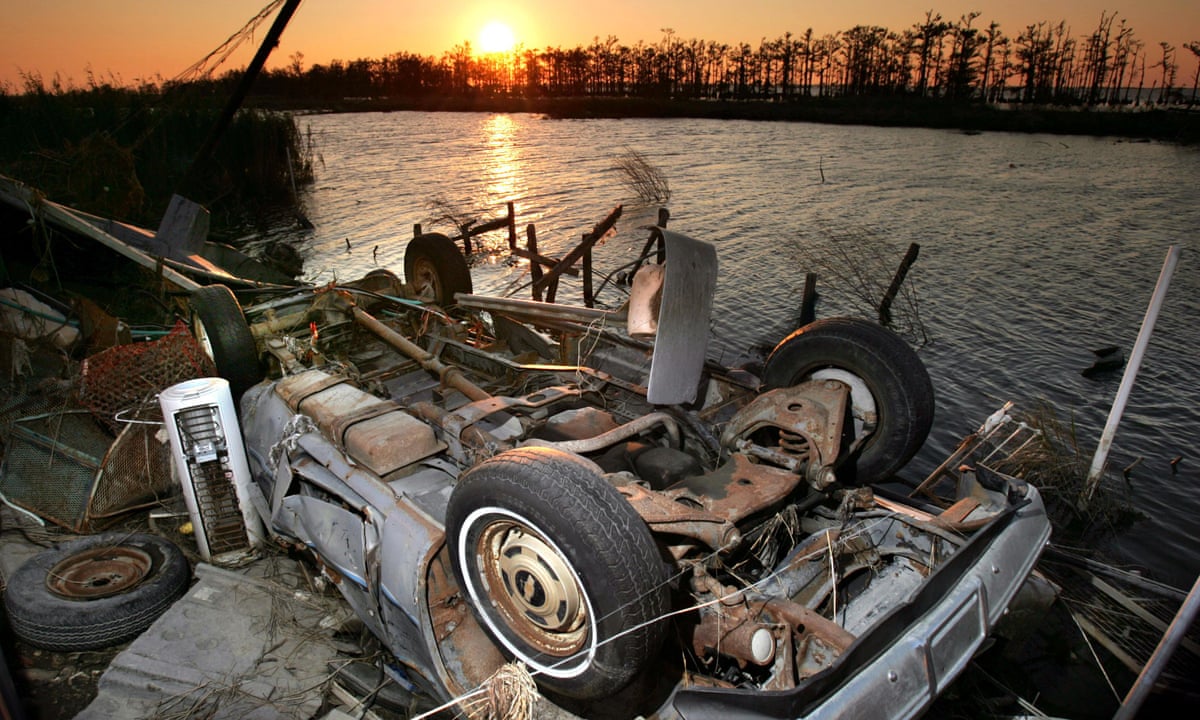 As oceans rise, as inundations and droughts become more extreme, as crops fail and as cyclones intensify, the world will increasingly face a new challenge climate refugees.
In the US, witness the recent scheme by the federal government to resettle a Native American tribe before their Isle de Jean Charles home in Louisiana vanishes underwater an example that reaches close to home. I have deep household roots in south Louisiana: my mother, sister and brother-in-law, aunt and uncle were refugees from a weather tragedy further exacerbate climate change, losing their homes in New Orleans during Hurricane Katrina in 2005. A year before, a heart condition killed my father in the aftermath of a stressful evacuation from Hurricane Ivan.
Some scientists already argue that the hundreds of thousands of Syrians fleeing their war-torn country are as much refugees from climate change as from conflict, because of years of climate-related drought. Others predict the world "il be seeing" hundreds of millions more climate refugees by mid-century, at a staggering human, financial and political cost.
And sadly, this loom problem is not a surprise. Way back in 1988, I represented Louisiana on a global warming task force of the National Governors Association. Even then, the sobering effects of increasing concentrations of carbon dioxide emissions were clear. We didnt miss the irony that oil-producing coastal states like Louisiana and Alaska would be hit hard by climate change. Many year later, in 2004, while serving on a federal climate-change task force, I watched the simulated desolation wreaked by computer-generated blizzard Pam along the Gulf coast. I was shaken, and prayed it would never actually come to pass. But it did in Katrina and, merely three weeks later, the record-setting Hurricane Rita.
And we can expect far more extreme climate. Over my decades of work on climate change, what has been a astound is that these impacts are arriving faster than we once thought, as the rate and extent of changes such as climbing temperatures, increased heat wave and inundates, and rising seas outstrip projections. The massive ice sheets covering Greenland and west Antarctica are disintegrating far more quickly than scientists calculated even in the last IPCC report in 2014. Earlier this year, on a trip to Antarctica, I find enormous icebergs calving off the continent a stark reminder of the enormous changes under way on the planet we all call home.
As a outcome, seas are now expected to rise by feet rather than inches this century, and other changes are accelerating. The first three months of 2016 have already shattered historical temperature records, with rising heat in the Arctic speeding the rate of sea ice loss. With no ice to protect their coastal villages from storm-tossed waves, Native American communities in Alaska are also becoming climate refugees, with a price tag to move merely one Inuit village, Shishmaref, estimated at $180 m.
Like many other subsistence cultures living near the water, the person or persons of Isle de Jean Charles or Shishmaref did little to contribute to climate change. Neither have many other coastal communities around the world that will suffer similar fates. It may be that the Louisiana climate refugees will be among the luckier onesin the sense that they are getting help to move away from their sinking island. Countless others will have to leave their homes with an uncertain future and no place to greet them.
I witnessed the heartbreak of losing home and community at first hand. After Katrina inundated 80% of New Orleans, my relatives, a friend and their five cats relocated to Arlington, Virginia and lived with me for several months. I find the pain of being away from a home that you did not choose to leave. My sister said that losing her cherished New Orleans life and being hurled into mine in the Washington, DC area was like being in the witness protection program. When it was unclear if the city would survive, she worried if the culture, food, music, neighborhoods and people that made New Orleans unique and irreplaceable would be lost forever.
My family was able to return to New Orleans, working to make it stronger. The Isle de Jean Charles tribe doesnt have that alternative. But thanks to support from the National Disaster Resilience Competition and the country, it does have a chance to rebuild elsewhere, though maintaining their culture bonds in a new environment could be a challenge.
Its unlikely that millions of others will be given the same possibility. From Bangladesh to Boston, from London to Vietnam, low-lying areas near coasts are jeopardized. Meanwhile, prolonged droughts will continue to fuel migration and conflicts in the Countries of the middle east, central and eastern Africa and other regions.
Is there hope in his bleak scene? The Paris Agreement to curb emissions that cause climate change was a huge, historic step. Now, every nation must live up to its pledges in that agreement and go beyond them if we are to keep the planets temperature from rising more than 2C, the level that scientists believe will avoid catastrophic consequences.
However, we are already in a warming world and we must prepare for the changes happening today and in the future. We need to use the best available science to identify and reduce our vulnerabilities to rising oceans, droughts, deluges and other impacts. We need not only to invest more in resilient infrastructure roads, railways, bridges, ports and metroes; water, wastewater and electricity systems but also to change how we invest and rebuild, taking future climate conditions into account instead of build for historic norms.
We also need to update our laws and policies to make it easier to get permits for protective measures, including green answers such as living shorelines, or for retreating from encroaching water. And at a time when one major political party in the US denies the very reality of climate change, we need to find the political will and the economic resources to do this and to help the most vulnerable. We need to support not just those displaced, but also those communities that accept climate refugees.
Perhaps most difficult is the need to engage in wrenching but necessary conversations about what it means to leave the only home youve known, and the home where your ancestors are interred, to try to create a more stable future. These must be dialogues for all of us , not just those in Louisiana or Alaska. The economic, political and psychological toll of the arriving droughts, famines, wars, storms and rising seas is difficult to fathom. Yet remarkably, even in this active political season, the need to adapt to climate change has hardly been mentioned.
For Louisiana, my home state, the stakes couldnt be higher. Weve lost the equivalent of Delawares entire landmass over the past century, and the familiar outline of the state is being eat away. The wetlands that once bountiful resources while serving as a buffer against blizzards and floods are continuing to vanish at an alarming rate. Watching the Louisiana coast sink faster than any other shoreline on the planet while being buffeted by ever-rising oceans and cyclones, one thing is clear. Its not that we are leaving home, but that home is leaving us.
Vicki Arroyo is executive director of the Georgetown Climate Center and Professor from Practice at Georgetown Law .
Read more: www.theguardian.com
---